An overwhelming majority of people (83%) say forest management reduces wildfire risk and support it as a means of preventing them. That's according to a recent poll that finds people are increasingly recognizing the critical role sustainable forestry practices and working forests play in maintaining forest health to help protect against catastrophic wildfires.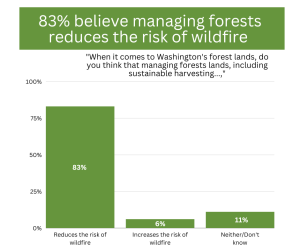 Research and practical application consistently demonstrate active forest management promotes forest health. Thinning dead and dying trees, planned harvests, prescribed fires and removing underbrush help keep forest fuel loads at safer levels so tree stands are less crowded and less susceptible when a fire hits.
The polling data is especially important as communities throughout Washington state face increasing frequency and severity of forest fires and the deleterious effects of wildfire smoke on air quality and human health. The Centers for Disease Control and Prevention (CDC) has stated wildfire smoke exposure – and in particular the noxious gases and fine particles created from burning vegetation, buildings and other materials – can lead to immediate and long-term health effects.
Coughing, stinging eyes, scratchy throats and irritated sinuses are just some immediate symptoms of wildfire smoke exposure. But health experts also warn wildfire smoke can affect high risk groups, including older adults, pregnant women, young children and people with respiratory and heart conditions. The CDC has listed tips to protect against wildfire smoke, but ultimately, preventing catastrophic wildfire is far better than mitigating its effect on human health and wellbeing.
Reducing wildfire smoke through forest management also would benefit businesses and outdoor workers. Poor air quality can impact productivity, employee health, and higher operations costs. The state Department of Labor & Industries (L&I) is working on a set of proposed permanent rules that would regulate industries where people may be exposed to wildfire smoke, including construction, utilities and agriculture. People working as wildland firefighters are not included in the proposed L&I rules.
Aspects of the proposed wildfire smoke exposure rules include requiring employers to monitor air quality forecasts or install air monitors on work sites. When air quality hits a certain level, employers also would have to have a plan in place to reduce worker smoke exposure like moving them to a different site, adding rest periods and offering free respirators. L&I has prepared an information page with additional details on the proposed wildfire smoke rules and other resources. Crosscut noted that if the proposed state L&I rules were in effect last year, employers would have had to provide outdoor workers respirators on seven workdays in the summer of 2022.
Washington state has yet to experience full-blown wildfire season thus far this year. But climatologists and forestry experts warn the hotter, drier weather are likely to contribute to late summer fires, making forest management an all the more important approach to decreasing the occurrence of harmful wildfire smoke for Washington residents, workers and businesses.