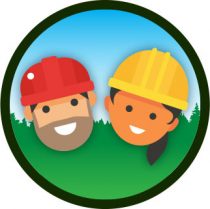 In a Working Forest, highly trained professionals called
practice the art and science of
while still producing wood products for people to use.
This special website has been created to help kids (adults are allowed, too) learn more about the world of working, managed forests in Washington state.
Forest management is what we call the work that professional foresters do year-round to maintain balance in the many parts of a forest ecosystem. It is an important part of a larger cycle that benefits wildlife, the environment, and produces wood that we need for building homes, making products, and so much more.
This is the start of your journey. Choose a section below to start your journey toward becoming a Junior Forester!
When you finish each section, use the navigation bar at the top of the screen to jump to a different section or come right back here.