Washington's private forest landowners continue to lead the way, and 2022 was no different. Whether it is applying the best science to support salmon recovery efforts or following proven-effective approaches to promote healthy, resilient forests, working forests demonstrate every day that they provide environmental, economic and societal benefits throughout the state. This is all happening while Washington's foresters supply communities with renewable, sustainably produced and carbon-sequestering wood that cleans our air and water.
Below is a summary of some of this year's most notable events for working forests. You also can learn more about how working forests are at the forefront of ensuring the state's upper watersheds remain cool and clean for salmon. To better understand the salmon's journey, check out this video.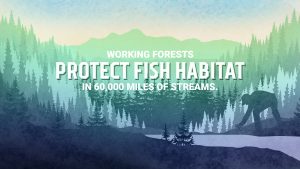 The state recognizes Washington Forest Protection Association members:
Since passage of the Forests & Fish Law, Washington's working forests have been true partners and leaders on salmon habitat restoration. To honor their and other large landowners' efforts, the Department of Natural Resources (DNR), Department of Fish & Wildlife and Department of Ecology jointly recognized large private forest landowners for completing their Road Maintenance and Abandonment (RMAP) Plan before the October 2021 deadline. Several WFPA members were honored, underscoring working forests' commitment to doing their part to provide cool, clean water for salmon. Among the organizations listed were BTG Pactual, Campbell Global, Fruit Growers Supply Company, Manulife, Rayonier, RD Merrill Company, Sierra Pacific Industries and Weyerhaeuser Company.
 Prescribed burns return:
DNR resumed prescribed fires on state lands after an 18-year hiatus. Planned fires are a forest management tactic that working forests have long used to reduce fuel loads and prevent forest fires from becoming large-scale megafires. In fact, research consistently shows that in addition to thinning, selective harvests and sustainable forest practices, controlled burns are a critical forest management tool that promote forest health and resiliency.
State Legislature pays tribute to Mark Doumit:
It was just a year ago that working forests lost one of its greatest champions and advocates with the passing of Mark Doumit. In recognition of his work in public service as a former Washington State Representative and Washington State Senator, as well as his work in natural resources and former WFPA Executive Director, the State House of Representatives unanimously passed a resolution – HR4650 –  honoring Mark.
Working forests build on their successes:
Working forests remain committed partners to protecting and improving fish habitat. The DNR biennium compliance monitoring report found an overwhelming majority of working forest operations complied with state forest practices rules. FP compliance rates ranged from 98% for Roads and Hall Routes prescriptions, 96% for unstable slopes categories and 88% in Type A and Type B Wetlands, affirming a "generally high compliance."