A Lewis County tree farm received the highest praise and recognition for its active role in sustainable forest management and outreach efforts. The Washington Tree Farm Program acknowledged Chuck and Nan Higgins, owners of the Michigan Hill Tree Farm, as the 2021 Tree Farmer of the Year.
Said Chuck and Nan in an email to The Chronicle:

"We feel very honored to be the recipient of this award. We have known several of the past recipients over the past 40 years or so and to be thought of in the same league as such folks is truly an honor."
Michigan Hill Tree Farm is a 110-acre tree farm made up of six tax parcels. The tree farm is named after the first parcel the Higgins' purchased in 1997 on Michigan Hill, a ridge between Rochester and Centralia. The longtime Centralia-area couple later purchased five additional parcels along Salzer Creek in 2011 and 2017.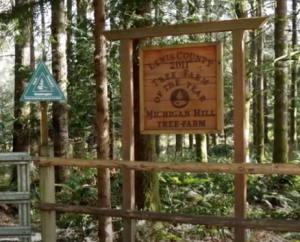 Though the Michigan Hill parcel is essentially contains all Douglas firs, the other five parcels have more tree diversity, Chuck said. The parcels along Salzer Creek grow cedar, red alder, hemlock and grand fir. Nan noted the parcels support wildlife biodiversity and is home to deer, elk, bears and birds – including pileated woodpeckers. In addition, the Higgins' have invested in riparian restoration work and have opened their lands for limited recreational activities like hiking, picnicking and equestrian trails.
Though not foresters by training – Chuck worked in the energy sector and Nan in education – Chuck credits Washington State University forestry classes tailored for small forest landowners. The Higgins' also have been active members of the Lewis County Farm Forestry Association for more than 40 years and received the Lewis County Farm Forestry Association's Forest Management award in 2009 and Tree Farmer of the Year Award in 2011.
Said Nan:

"It's our part as tree farmers to educate people, and I love educating children about the forest. Oftentimes, children have never even been in a forest. It's just awe-inspiring to bring them here because they'll just stand and look up at the trees and when they find out that there's where the lumber comes from to build their home. It's really hard for them to understand how we can grow something for 30, 40 to 50 years and then finally have a harvest, so I think that's important to teach people."
The Washington Tree Farm Program administers the certification of more than 400,000 acres of forestland under The American Tree Farm System® (ATFS), a program of the American Forest Foundation. ATFS is the largest and oldest sustainable woodland system in the United States, internationally recognized, meeting strict third-party certification standards. As part of the certification process, each state participating in the ATFS recognizes one of its members as Tree Farmer of the Year. A national winner will be selected by the American Forest Foundation in 2022.