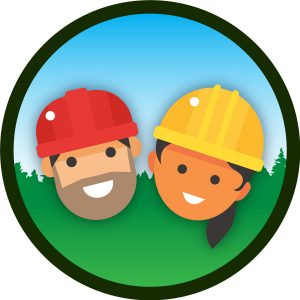 A new online resource about Washington's working forests is providing engaging, kid-friendly information as the majority of the state's students continue distance learning in response to the global COVID-19 pandemic.
The Washington Forest Protection Association (WFPA) has launched a website – Learn About Forestry – featuring a forestry learning center and various youth-focused activities that take students indoors and outdoors. The website has been created with the aim to help kids and adults learn more about the world of working, managed forests in Washington state using fun activities and colorful, appealing graphics.
Forest management is the work that professional foresters do year-round to maintain balance in the many parts of a forest ecosystem and promote healthy, resilient forests. It is an important part of a larger cycle that benefits wildlife, the environment, and produces wood that we need for building homes, paper products, ingredients in many of your favorite foods and other consumer products that we all use daily.
The launch of Learn About Forestry comes at a time when the majority of school districts throughout Washington state are learning in virtual classrooms, and parents and educators are looking for ways to keep kids excited about learning and provide opportunities to be active outdoors.
Learn About Forestry offers an accessible doorway for young students to learn about forests from the perspective of those who live, work and care for them. The website offers fact sheets, colorful illustrations and quizzes that cover forest ecology, wildlife, the environment and wood products.
Take a virtual forest tour with Environmental educator, Kelly Stanley from  Port Blakely  The videos show how to measure the age of a tree, forest products, tree identification, the layers of a forest and wildlife detection. And because education should be fun, some of the videos even include special appearances from Big Foot himself.
Learn About Forestry also provides links to resources at other sites, including a detailed "cheat sheet" on how to identify trees most commonly found on hiking trails by the Washington Trails Association and forest-based resources for educators provided by the Oregon Forest Resources Institute.
Please bookmark the Learn About Forestry homepage and share the link with friends,  family and your social media network. More activities and information will be added throughout the year. In the meantime, whether you're a school-aged child or adult, please enjoy exploring and having fun learning about working forests.