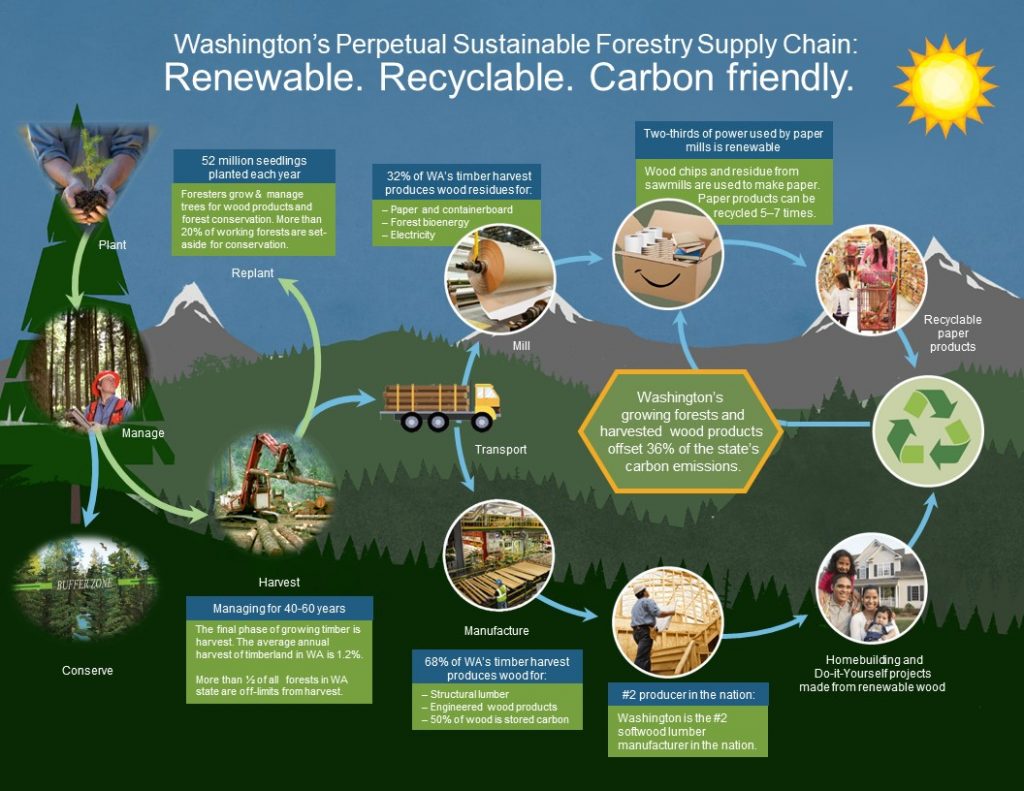 The third week in the month of October marks National Forest Products Week, which aims to highlight the value of forest products and the vital role wood products play in every US resident's life. This year, a renewed appreciation for paper products and the importance of maintaining the forest products supply chain was brought to light during the early days of the global COVID-19 pandemic.
News reports of paper products and other wood-based home consumer goods shortages during the onset of the pandemic and stay-home orders called attention to just how much our society depends on forest products in healthcare, home maintenance, construction and personal care. The toilet paper, paper-based personal protective equipment and other wood product scarcities made clear that maintaining the forest products supply chain was important for our health, economy and way of life.
That is why Gov. Jay Inslee and the Department of Homeland Security announced in the early weeks of the pandemic that the forest products industry was a critical function and a necessary part of "public health and safety, as well as economic and national security" and thus has a
"special responsibility to maintain a normal work schedule."
But a vital part of safeguarding a strong and robust forestry sector is to ensure the forestry products supply chain remains intact. The forest products industry is so integrated that when one link in the supply chain is interrupted or stalled, its impacts are felt throughout the industry.
That's because virtually every inch of the tree is used to make construction materials, renewable biofuels, and personal care products like toilet paper, paper towels and sanitizing wipes. After harvesting timber for lumber, paper and pulp rely on wood chips during the milling process and forest residuals — small trees, branches, tops and other remaining bits left after harvest as raw materials to make toilet paper, renewable biofuels, food ingredients and other products.
And increased demand for consumer home consumer goods like paper napkins, facial tissues, paper towels, and home construction materials from the uptick in home improvement projects is likely to persist as social distancing continues. There's no certain answer on when society will return to the pre-COVID days. But what is evident is that the timber products sector is an essential industry that benefits us all.