A recently released fact sheet created by the American Forest Resource Council succinctly summarizes how and why working forests and the wood products sector benefit the climate.
Sustainably managed forests and durable wood products provide a critical climate mitigation benefit. That's because wood products store carbon. And, if used in place of more energy and carbon intensive building materials like steel and concrete, it provides even further environmental benefits.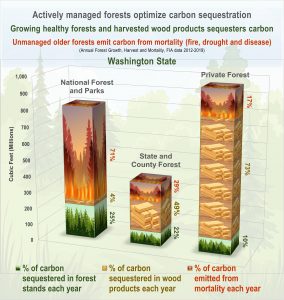 Incorporating more wood products in our built environment and beyond also supports  a robust and vibrant forestry sector that can continue to provide society with carbon-sequestering wood products and promote healthy, resilient forests.
After all, managed forests are healthy forests. On a per acre basis, private forest landowners in Washington state sequester more than three times more carbon in forests and wood products that federal lands due to high tree mortality and wildfire. The difference between the two lands is working forests are managed and federal lands are largely unmanaged.
You can read more about in this link.