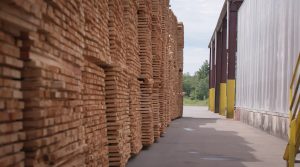 Forestry is a vital component of Washington state's green economy and climate change response, according to a state report that analyzed ways to connect that state's greenhouse gas emission targets with economic development.
The Washington State Department of Commerce and its Green Economy Work Group published a report this summer identifying forestry and building materials, energy, agriculture and water as "key sectors of the green economy" that could simultaneously boost the economy and address environmental challenges associated with climate change.
Including the forestry sector into the state's green economy makes sense since sustainably managed forests and building materials made of wood help improve air quality by absorbing greenhouse gases. Trees naturally sequester carbon from the atmosphere as they grow. The wood products continue to lock that carbon throughout the life of the timber product.
Specific to the forestry sector, the report noted that "Washington state has more than 22 million acres of forestland that provide important resources for economic development in rural economies, recreational opportunities, as well as environmental benefits such as carbon sequestration."
The report also noted that:

"New technological developments are opening up opportunities for clean sources of energy and building materials that can also help the state meet its objectives in addressing statewide forest health issues. Washington state is uniquely positioned to establish itself as a global leader in these developments…"
To help make that happen, the report provided a list of recommendations and opportunities the state should pursue. In addition to helping to grow the forestry sector and address climate change, these recommendations, the report noted, also could aid in Washington's economic recovery from the global COVID-19 pandemic.
Suggested actions the state should take include:
Establishing and promoting new markets for the emerging biomass industry
Funding forest fire prevention, including fuel reduction projects
Establishing Washington as a leader in green buildings, clean industry and sustainable materials
Expanding the use of Washington state's forest products as sustainable building materials, particularly in affordable housing projects
Investing in Washington's forestry workforce of the future
The report also noted that state investments and policies that support the forestry sector would provide numerous benefits. It would result in economic opportunities in rural and underserved communities. It would help establish Washington as a global leader in innovative wood products like mass timber, biochar for soil amendment, and renewable fuels like industrial-grade wood pellets and aviation biofuel. In addition, local sourcing and supporting a locally-based supply chain would make Washington state less reliant on globalization and foreign sources.
To read the full report, click here.