Integrity, kindness, savvy, wisdom, generosity and fun-loving are the oft-used words that people used to describe beloved friend, colleague, lifelong public servant and forestry sector supporter Mark Doumit. The Washington Forest Protection Association (WFPA) lost a dear member of its family and the forestry sector one if its most passionate champions with the announcement that Mark passed away unexpectedly June 21st. Mark was 59.
Family and close friends said their goodbyes to Mark in a private ceremony June 29th. A public celebration of Mark's life and legacy is scheduled 2 PM on July 13th at Wilcox Family Farms, 40400 Harts Lake Valley Rd. Roy, WA.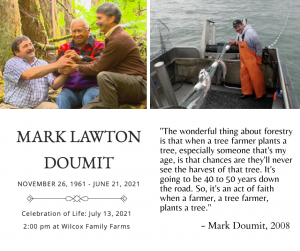 News of Mark's passing prompted an outpouring of praise and kind words from former legislative colleagues, current elected officials, and leaders throughout the forestry sector. Former colleagues described Mark as the type of man who brought candy to meetings on Valentine's Day, an elder statesman and mentor who generously shared his insights, and an affable man who possessed an infectious laugh and smile that would help make the hard work of budget writing more enjoyable.

Local publications like the Chinook Observer described Mark as a "fierce advocate" for Southwest Washington and the Longview Daily News pronounced him a champion for "Washington's forests and rivers."
Mark's career in public service began as Wahkiakum County Commissioner, serving two, four-year terms. In 1996, he was elected to represent the 19th Legislative District as a state representative. Six years later, Mark served four years as the district's state senator.
Throughout his more than 30-year span of a career in public service, Mark played a critical role in the passage of landmark legislation that benefited working forests, the environment, the state's economy and rural communities. In 1999, while a State Representative and Chair of the House Natural Resources Committee, Mark sponsored the landmark Forests & Fish Law legislation, which has helped preserve more than 60,000 miles of streams running through 9.3 million acres of private and public forestland.
"Mark Doumit was the most skilled, long-range strategic thinker I've known in Olympia," said Washington House Republic Leader JT Wilcox (R-Yelm). "Mark could get an appointment with anyone in Olympia and had more friends than anyone I've ever known. He was known for being exceptionally kind to everyone. Relative importance made zero difference to Mark. His most lasting impact on politics will be seen in decades ahead as the multitude of people who learned from Mark how to do politics in the kindest and most positive way, consciously and unconsciously do things as Mark would have done them."
Mark adeptly represented his legislative district's needs and helped the entire state because he was a pragmatic lawmaker who possessed the rare talent and skillset to work collegially with legislators regardless of their political affiliation or whether they represented rural, urban or suburban communities, said former Speaker Frank Chopp (D-Seattle).
"Mark was one of those people who found common ground with everyone he encountered," said Chopp. "He recognized that they cared about the things that he cared about – good schools, jobs, transportation and helping their districts. Simply put, Mark put people first."
Mark continued to advocate on behalf of working forests when he left the Legislature to lead the WFPA as its executive director in 2006. With Mark's leadership and extensive Olympia connections, WFPA helped advance landmark legislation that affirmed the vital role of working forests in salmon restoration efforts, economic development and helping to address climate change.
During the 2020 legislative session, in partnership with State Sen. Kevin Van De Wege (D-Sequim) and State Rep. Bill Ramos (D-Issaquah), the WFPA and Mark advocated for the passage and signing into law HB 2528 which recognizes the essential role Washington state's forestry industry and working forests play in removing greenhouse gases from the atmosphere.
And most recently, Mark and the WFPA partnered with Public Lands Commissioner Hilary Franz and HB 1168 primary bill sponsor, Larry Springer (D-Kirkland), in support of significant legislation that provides dedicated funding for wildfire prevention and forest health.
Gov. Jay Inslee issued a statement praising Mark's work in the legislature and at WFPA, noting that "generations of Washingtonians, who might never know Mark's name, will benefit from his leadership on behalf of our forests."
In addition to being a skilled budget writer and committed representative, State Rep. Eileen Cody (D-Seattle) noted that Mark's infectious laugh is what first comes to mind when she thinks of him – that and his disarming smile.
"We will all miss Mark," Cody said. "I will never forget those late nights working on the budget with Mark and Helen Sommers, and of course our many St. Patrick's Day toasts. But I will especially remember his sense of humor, his smile and his dimples!"
WFPA will continue to carry out the 113-year-old organization's forward-thinking vision and framework established by Mark, the WFPA Board and WFPA leadership team. That includes advancing sustainable forestry practices and balanced forest policies that encourage investment in forestland, protection of fish, water and wildlife and promote responsible forest management as a preferred land use.
"Mark will always be remembered as a leader who brought forestry back to importance in Washington state," said Court Stanley, former WFPA President and former Port Blakely President. "He was passionate and always up for an adventure. Thanks to the staff Mark assembled, WFPA will remain a thought leader in the legislature and natural resources sector and an example on how to work collaboratively."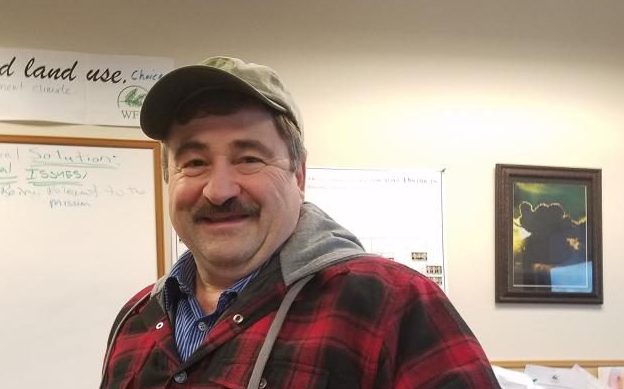 To honor Mark's passion for working forests, the WFPA has created a scholarship to help fund education for students who wish to pursue careers in forestry. Contributions in Mark's memory can be mailed to: Pacific Education Institute, Mark Doumit Memorial Scholarship, 724 Columbia St. NW #255, Olympia, WA 98501.
In addition to the WFPA team, Mark is survived by his wife, Mindy, his three sons Matt, Ben and David, and their spouses and three grandchildren, as well as seven brothers and sister, extended family members and the numerous people of Washington state and forestry sector who were proud to call him friend.
Mark's obituary, which includes more stories about Mark's life and details on both the public memorial event, can be found here.