The forestry and wood products sectors have an important part to play in facilitating climate action today and into the future, according to panel of speakers at a virtual event last week.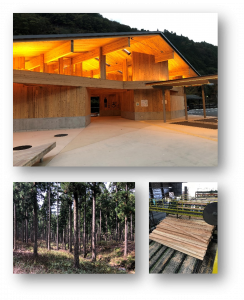 The Consulate General of Japan in Seattle hosted a webinar in partnership with the Washington State Department of Commerce, the Forest Agency of Japan and JETRO San Francisco exploring how federal and state government initiatives working in tandem with sustainable forest management practices and environmentally-friendly construction can help mitigate climate change.
As countries like Japan and states like Washington take active steps to address climate change, they're looking to the forestry sector as a critical component in this effort. In his policy speech at the start of the parliamentary session after taking office in last year, Prime Minister Yoshihide Suga declared that "Japan will achieve zero-carbon emissions by 2050." And citing the 2020 wildfires, Gov. Jay Inslee issued a Climate Commitment in December 2020 that aims to reduce greenhouse gas emissions to 95% below 1990 levels by 2050.
Incorporating the sustainable forestry sector as part of a comprehensive climate policy makes sense. Trees naturally remove greenhouse gases from the atmosphere and retain that carbon throughout the wood product's lifespan.
That is why legislation that recognizes an intact forestry product supply chain and forestry sector plays an important role in the state's global climate response passed with bipartisan support and was signed into law by Gov. Inslee last year. It also is why representatives and forestry industry leaders from Japan and Washington state are working together to promote wood products and the forestry sector.
According to the Japanese Consulate:

"With a history of strong trade ties and industry expertise, this webinar is an opportunity to highlight trends in both Japan and Washington on sustainable forest practices and wood use, promoting even closer economic cooperation. Japan sees two effective roles of wood for the mitigation of climate change: carbon sequestration and the reduction of emissions in construction and other activities."
Japan and Washington State have cooperated in many fields, including clean technology and the forest product industry under a Memorandum of Cooperation (MOC) on Economic and Trade Relations originally signed in 2016 and extended for an additional four years in 2018. Japan has been a major importer of logs and lumber products from Washington for nearly 100 years.