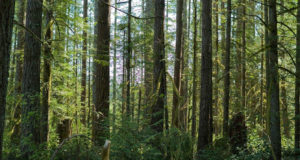 Is age just a number when it comes to trees?
If we're talking about how trees within working forests help address climate change, the answer is 'no,' according to the National Council for Air and Stream Improvement (NCASI). The NCASI, an organization dedicated to helping the forest products industry achieve its environmental and sustainability goals, created an infographic explaining how forests of different ages play different roles in removing carbon from the atmosphere and storing it in wood.
The visualization, which is sourced from a body of peer-reviewed publications, outlines how trees of varying ages within working forests address climate change. Older forests have more carbon sequestered since they have accumulated more carbon than younger forests due to having existed longer. However, younger forests grow rapidly, removing much more carbon dioxide gas each year from the atmosphere than an older forest covering the same area.
The NCASI illustration demonstrates the balance foresters can strive toward as all trees provide both storage and sequestration benefits. Limiting the loss of old trees can help to avoid larger emissions. Simultaneously, nurturing young forest growth can help rapidly remove carbon dioxide from the atmosphere.
The NCASI infographic validates the approaches private forestland owners have long championed to support healthy, resilient forests to help make tree stands more impervious to insect infestations, storm damage and forest fires. After all, it is well documented that wildfires release large amounts of carbon dioxide and pollutants in the atmosphere, impacting air quality and contributing to climate change.
Forestry has long relied on science and best practices to guide its decision making. Proven effective methods like thinning and selective harvests have helped maintain forest health while ensuring working forests continue to operate sustainably to meet consumer demands for renewable and environmentally friendly wood products.
Managed forests help produce wood products that store carbon long after the trees are harvested and retain that carbon throughout the wood product's life. These wood-based products provide an added benefit when used in place of more energy-intensive materials requiring more energy to produce and creating more fossil fuel emissions like concrete, plastic and steel.
That is why during the 2020 legislative session, Washington state lawmakers passed and Gov. Jay Inslee signed into law the Forest Products Sector Carbon Bill – HB 2528. The bill distinguishes the private forestry sector as one of the most effective and natural ways to remove carbon dioxide gas from the atmosphere and to sequester that carbon in wood products.
To learn more about how sustainable forestry is a natural carbon solution in Washington state, go here.