FORESTS FACTS and FIGURES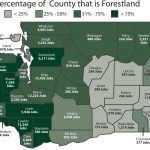 Click here to see the economic impact of working forests and wood manufacturing in each county.
WORKING FORESTS FACT SHEETS
Forests are a renewable resource providing jobs, protecting fish, water and wildlife and producing wood products.
Private landowners share the burden of preparing for and fighting wildfire.
Public and private timber harvesters pay the FET in addition to the property tax on timberland
From 2001 through 2018, forest landowners have removed more than 8,100 barriers to fish passage. Approximately 83% of those identified have been eliminated, opening up nearly 6,200 miles of historic fish habitat. The goal is to eliminate 100% of the barriers by 2021.
Private forest landowners support a plan of action that prioritizes prevention and early detection and suppression.