WASHINGTON'S PRIVATE FOREST SECTOR SUPPLY CHAIN
From planting and growing trees, to manufacturing wood and paper products to supply our home improvement and grocery stores, the forest products sector is a series of integrated segments that work together to supply renewable and recyclable carbon friendly products that we all use each day.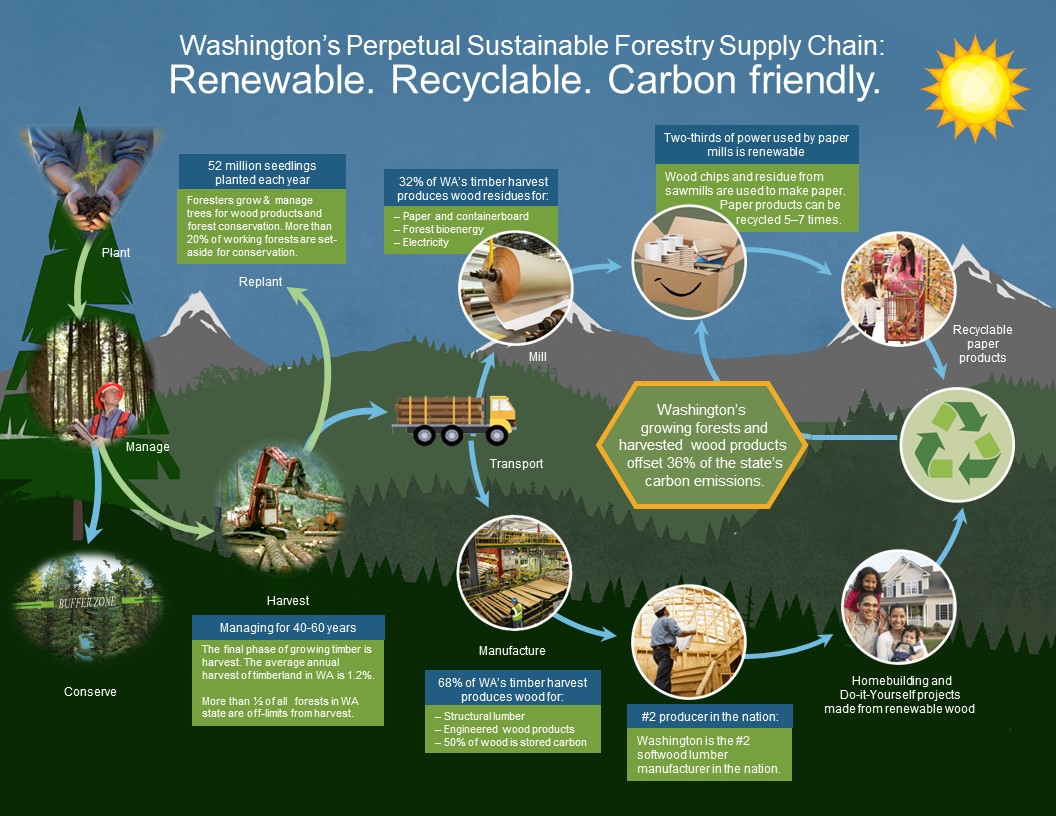 Washington's forests cover one-half of our land area, mostly west of the Cascade Mountain Range. The rest of the state has vast stretches of agricultural lands, sage desert, and many mountain peaks that reach above the timberline. Also, cities and towns across the state now thrive where forests once grew.
Working forests form the foundation of the timber industry that supports more than 101,000 workers and generates $5.5 billion in wages annually. Learn more about working forests.  Our working forests sustain the 3rd largest manufacturing industry in Washington.  We support active, sustainable forestry to promote revenues, taxes, jobs and produce renewable wood products for society.
In Washington, 47% of our forests are working forests and 53% are restricted from any timber harvesting, including parks, wildlife refuges, and conservation set-asides of state, private and tribal land.
In our national forests, parks, and wildlife refuges, forests continue to flourish as they have for centuries. In our working forests, trees are grown, harvested, and replanted in a continuing cycle to provide us with forest products we use every day. Click here to learn about working forests in your county.
economic map postcard frontside 2018_2

The Future of Washington Forests Report
Growing concern for Washington's forestlands prompted the state legislature to authorize a major study called "The Future of Washington Forests." The state Department of Natural Resources contracted with the University of Washington's College of Forest Resources to prepare a comprehensive report assessing topics such as the competitiveness of Washington's timber supply, conversion of forestlands to urban development, and forest health. The project also relied on the participation of stakeholders — including WFPA and many of its members — to produce a set of policy recommendations for the legislature. The results are now available in The Future of Washington Forests 2007 Report to the Legislature.