A DIVERSITY OF LAND MANAGERS ARE PART OF THE FOREST SECTOR SUPPLY CHAIN
From planting and growing trees, to manufacturing wood and paper products to supply our home improvement and grocery stores, the forest products sector is a series of integrated segments that work together to supply renewable and recyclable carbon friendly products that we all use each day.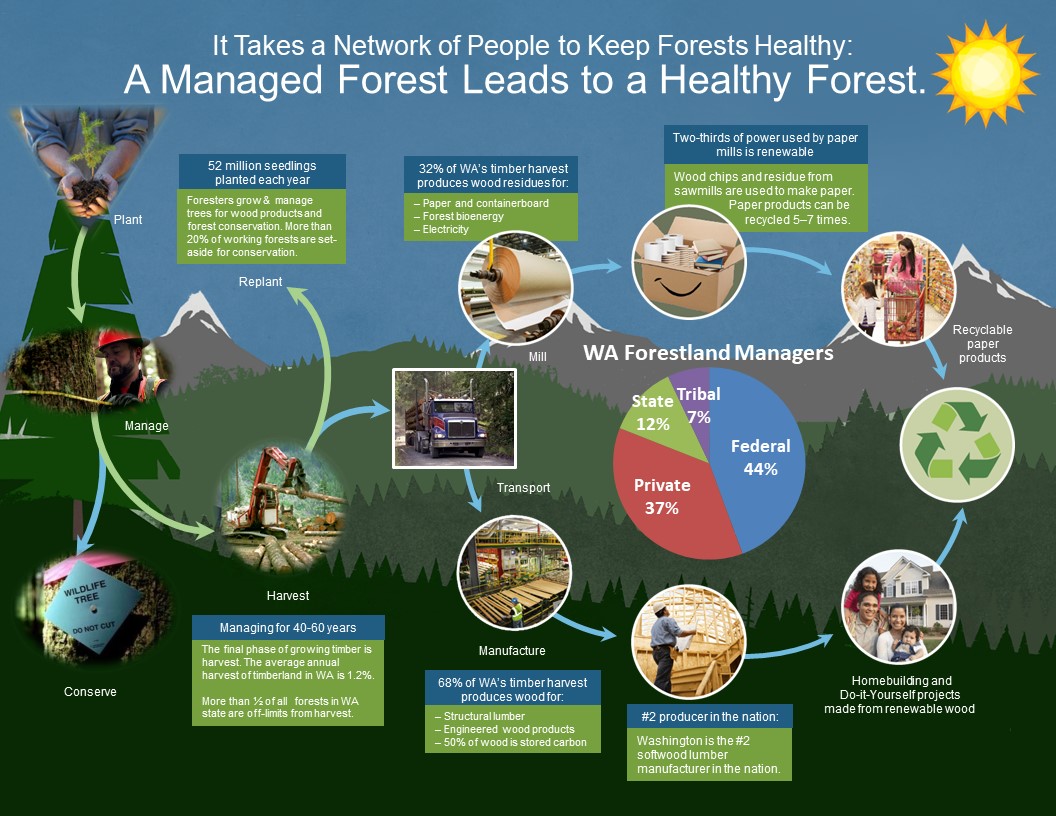 Washington's forests cover one-half of our land area, mostly west of the Cascade Mountain Range. The rest of the state has vast stretches of agricultural lands, sage desert, and many mountain peaks that reach above the timberline. Also, cities and towns across the state now thrive where forests once grew. 
In each forest region, you'll find a unique variety of trees species, plants, and animals. Foresters study the local conditions and tailor their forestry programs to sustain and protect the native species in each forest region.
About two-thirds of Washington's forestland is publicly owned, while the remaining one-third is privately owned.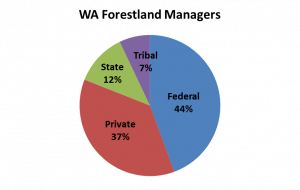 This diversity allows Washington's forests to fulfill many economic, social, and environmental needs. Working forests form the foundation of the timber industry that supports more than 101,000 workers and generates $5.5 billion in wages annually.  Our working forests sustain the 3rd largest manufacturing industry in Washington.  We support active, sustainable forestry to promote revenues, taxes, jobs and produce renewable wood products for society.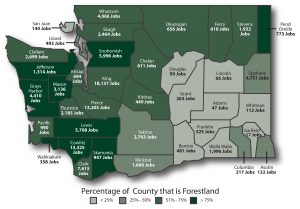 In Washington, 47% of our forests are working forests and 53% are restricted from any timber harvesting, including parks, wildlife refuges, and conservation set-asides of state, private and tribal land. In our national forests, parks, and wildlife refuges, forests continue to flourish as they have for centuries. In our working forests, trees are grown, harvested, and replanted in a continuing cycle to provide us with forest products we use every day. Click here to learn about working forests in your county.
WASHINGTON'S FOUR DIVERSE FOREST REGIONS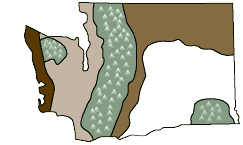 Washington can be divided into
four forest regions
: Coastal, Lowland, Mountain, and Eastside. Each region is characterized by different growing conditions, climate,
tree species
, plant life and animals, and can encompass many different kinds of habitats.
Coastal Forest Region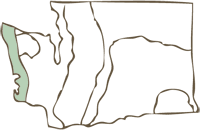 The Coastal Forest Region is the low-elevation region stretching along the west coast of Washington, reaching north into Alaska and as far south as northern California. Temperatures here are mild with few extremes. Average rainfall reaches 130 inches per year, making it one of the wettest regions in Washington. The Pacific Ocean greatly impacts growing conditions in this region, generating heavy summer fog which keeps the moisture level very high – even when it's not raining. In fact, fog can generate an extra four feet of moisture here each year.
Sitka spruce, western red cedar, and western hemlock thrive in this wet, damp environment, sharing a high tolerance for shade in their early growing years. In drier habitats on west- and south-facing slopes, Douglas-fir is common. In fact, because Douglas-fir has a high tolerance for moisture, it can become established in almost any habitat throughout the state.
Lowland Forest Region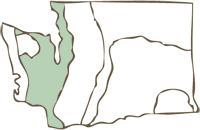 The Lowland Forest Region is Washington's largest forested area, stretching from the coastal region up to the start of the Cascade Mountain slopes. Since the early settler days, it has been one of Washington's most important timber-producing regions. Not only does it have abundant moisture (over 70 inches of rainfall annually), but it also enjoys mild temperatures that make it an ideal place for growing a variety of trees. The dominant species of this region include Douglas-fir, western hemlock, and western red cedar. Bigleaf maple is also typical, as is the Pacific madrone, the region's only common broad-leafed evergreen tree.
Much of this region has been harvested since the early part of the century, so most of the forests here consist of second-growth and third-growth Douglas-fir, particularly those planted by private foresters. Western hemlock and western red cedar also dominate here due to their ability to reseed under shady conditions.
Mountain Forest Region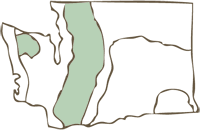 The Mountain Forest Region starts at 2,500 feet elevation and rises to 7,000 feet. The majority of this area flanks the Olympic Mountains and the Cascade Mountains. Because of its wide variety of climates and elevations, this region offers dramatically diverse habitat and growing conditions. In the lower elevations of the region, thick stands of evergreens cover the mountain flanks with close-growing trees. At its uppermost elevations (between 4,000 and 5,000 feet) trees thin out considerably because they have to fight to survive colder temperatures, a short, cool growing season, and thin soil. Winter temperatures are often below freezing, with a snowpack that can be up to ten feet and last six to eight months. In the summer, warm temperatures are moderated by dense forest shade, cold mountain streams, and temperatures that drop at nighttime.
Like the lowland forest region it borders, the mountain forest region is home to a wide variety of trees. At its lower western elevations, Douglas-fir, western hemlock, western red cedar, and Pacific silver fir thrive. In the mid-elevations of the eastern Cascades, lodgepole pine, ponderosa pine, grand fir, and western larch join Douglas-fir as the most common species.
Eastside Forest Region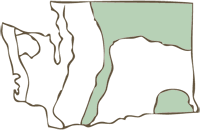 You can tell you're entering the Eastside forest region when you start to see ponderosa pine (sometimes called yellow pine) trees standing alone at elevations of about 1,800 feet. As elevation rises, you'll see concentrations of ponderosa pine stands, often in combination with Douglas-fir, up to 3,200 feet. The majority of this grassy region lies north of the Columbia and Spokane rivers in northeastern Washington, ranging through the Okanogan Highlands and Ferry, Stevens, and Pend Oreille counties. It also includes the lower east side of the Cascade Mountains and the Blue Mountains in southeast Washington. Dry, and even arid, conditions distinguish this region from all others. Annual rainfall ranges between 6 and 20 inches and the temperature range is extreme. In the summer, highs can exceed 100°F. And from October through May, freezing temperatures are common.
Due to the extremes of climate and lack of moisture, plant life here is sparse – although extremely hardy. Ponderosa pine's drought-resistant characteristics help it survive these harsh conditions, making it the dominant tree species. Lodgepole pine also thrives here, along with Douglas-fir, western larch, and western white pine.