WASHINGTON'S FORESTS & WOOD PRODUCTS ARE NATURAL CARBON SOLUTIONS
Managed forests and wood products are part of the solution for climate change by storing carbon in the forest and wood products.
SUSTAINABLE FORESTRY PROVIDES A NATURAL SOLUTION FOR REDUCING CARBON EMISSIONS IN WASHINGTON STATE.
Forest landowners grow and harvest trees when practicing sustainable forestry.  Growing trees absorb carbon and harvested wood store carbon, helping reduce Washington's carbon footprint.
Using natural wood building products as substitutes for more energy intensive materials, is a natural solution for reducing carbon.
Working forests create family-wage jobs and carbon friendly wood products.
Working forestry supports additional environmental benefits we all care about such as protecting the cool, clean water that salmon need to thrive.
Working forestry-derived carbon benefits can achieve carbon reductions at the lowest cost to our economy, consumers and businesses.
Washington's forest products industry is Below Net Zero. While growing, managing, harvesting, transporting and manufacturing wood and paper products emits some greenhouse gasses, growing trees and using wood products store more carbon, reducing Washington's carbon footprint by 12%. (Source: University of Washington  Forest Carbon Study, 2020).
Science now confirms that growing and harvesting wood from carbon-absorbing trees under sustainable practices, is a natural way to create and accelerate substantial net carbon reductions. And the use of wood products – as a substitute for more energy intensive building materials, reduces our carbon footprint – as wood naturally stores carbon 
indefinitely.
The practices that maintain healthy, managed forests for sustainable timber harvest also reduce the risk of mass carbon emission events such as catastrophic wildfires.
Unmanaged Forests Release Carbon
"A legacy of fire suppression has resulted in our forests that are over-stocked and much more susceptible to catastrophic fire and disease. Restoring forest ecosystems, particularly in fire-adapted forests, will make our forests more resilient to climate-induced stresses and will ensure that our forests will continue to provide ample, abundant, clean water." 
United States Secretary of Agriculture Tom Vilsack.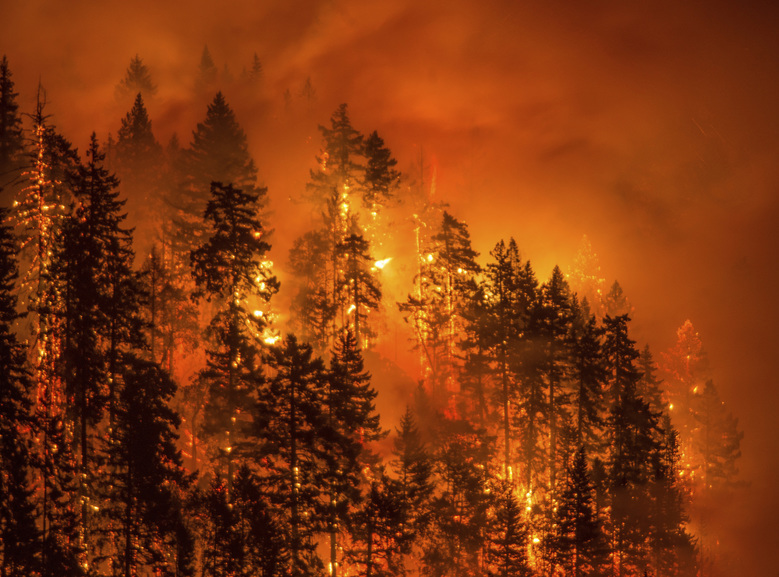 Unhealthy forests are more susceptible to wildfire because the trees are crowded, dry and often have insects and disease.
The good news is working forests and wood products can help us reduce carbon in the atmosphere by:
Increasing sustainable forest management: harvesting timber, transferring carbon storage to wood products, and reforestation increases carbon stocks
Lowering the carbon footprint of buildings by using wood products to substitute for fossil fuel intensive materials.
One square meter of wood used in construction prevents the emission of 1.1 tons of carbon when substituted for other building materials.
Reducing emissions from deforestation or converting lands to non-forest uses
Expand forest areas through afforestation, or planting trees in on-forested lands.
Frequently Asked Questions About Forest Products and Carbon
---
---
Healthy, growing trees remove carbon dioxide from the atmosphere, then store that carbon as tree biomass, or wood. When timber is harvested, the carbon stays in the wood, lumber and other timber products for their useful life.
Science now confirms that growing and harvesting wood under sustainable practices, and preferencing the use of wood products that we know store carbon indefinitely, is a natural way to create and accelerate substantial net carbon reductions.
Large, unmanaged, and unhealthy forestlands pose a greater risk of mass carbon emission events such as catastrophic wildfires and large-scale treefall in windstorms resulting in excessive, carbon-emitting decay and rot.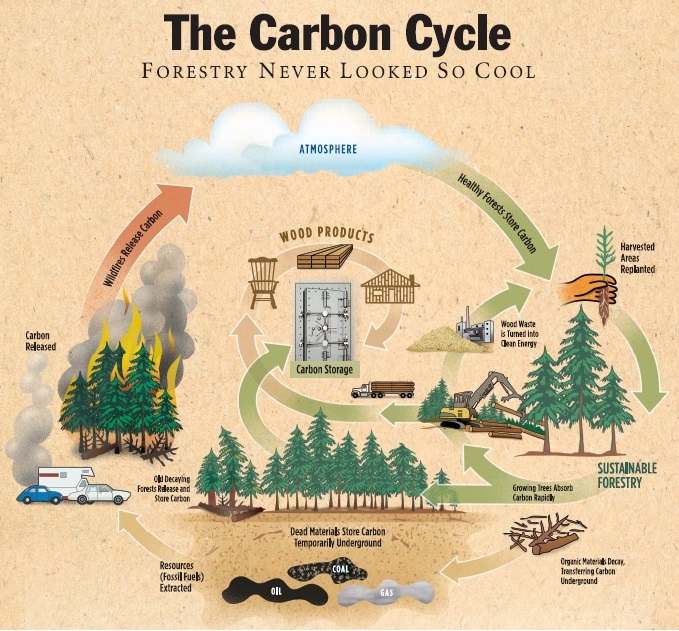 RESPONSIBLY MANAGED FORESTS ABSORB CARBON
Sustainable forestry increases CO2 absorption from the atmosphere as a result of young trees absorbing higher levels of carbon dioxide than older trees, making the forest act as a carbon sink. Responsibly managed forests provide drinking water, a healthy climate, wildlife habitat, and green jobs in rural economies. Managed forests increase CO2 absorption and prevent catastrophic fire, disease and insects that kill trees and emit carbon dioxide.
Forests Remove Greenhouse Gases from the Atmosphere
Scientific research has demonstrated that forests provide environmental values, including removing carbon dioxide from the atmosphere that non-forested landscapes cannot. As a tree grows it takes in carbon dioxide, a greenhouse gas, from the atmosphere and releases oxygen in the process of photosynthesis. This carbon is sequestered and stored, in the forest and in the wood products we use every day. When we use wood products in our buildings, we avoid concrete and steel, products that emit large amounts of carbon dioxide in their manufacturing process.